We're Getting Mutants in the MCU - The Loop
Play Sound
Giovanni used to be the Gym Leader of Viridian City. He trains Ground-type Pokémon. Later after his rematch with Red, after that he was replaced with Blue/Green. So Now Blue is the Gym Leader. He doesn't specialize in any type, though in Red, Blue,and Yellow, most of his pokémon are Ground-Type.
General Information
Red, Blue and Yellow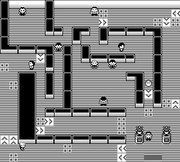 Giovanni
Gym Leader Giovanni in Red and Blue:
Giovanni in Pokémon Yellow:
Gold, Silver and Crystal
This time around there were no tricks to the Gym like Olivine Gym. It's just a straight path to the Gym Leader
Gyarados

  
Lv. 58

♂

Ability: None
Item: None
Twister
Hydro Pump
Rain Dance
Hyper Beam

Pidgeot

  
Lv. 56

♂

Ability: None
Item: None
Wing Attack
Whirlwind
Quick Attack
Mirror Move
FireRed and LeafGreen
Gym Leader Giovanni:
Rhyhorn

  
Lv. 50

♂

Ability: Lightningrod
Item: None
Take Down
Rock Blast
Scary Face
Earthquake
HeartGold/SoulSilver
For Generation IV, this Gym was more challenging than it was back in Generation II. Not only have the slide tiles returned, but you had to challenge trainers as well.
Gym Leader Blue
Exeggutor

  
Lv. 55

♂

Ability: Chlorophyll
Item: None
Psychic
Hypnosis
Leaf Storm
Trick Room
Pokémon Stadium
Round 1
Rocket:
Lab Man:
Cool♂:
Giovani:
Round 2
Rocket:
Lab Man:
Cool♂:
[[ZAPSTOR]]

  
Lv. 50
-
Ability: None
Item: None
Thunder Wave
Swift
Thunder

-
Giovani:
Pokémon Stadium 2
Round 1
Blue:
Round 2
Blue:
Videos
thumb|300px|left|Viridian Gym Interior in Pokémon Stadium 2