We're Getting Mutants in the MCU - The Loop
Play Sound
Team Rocket HQ




 ロッケトだんアジト

Rokketo's Hideout

Information about Team Rocket HQ
Region:
Johto
Connecting locations:
↑ - Lake of Rage
Weather:
Normal
Kind:
Building
Needed HM:
None

Location of Team Rocket HQ in Johto.
The Team Rocket Headquarters is the secret headquarters of the crime syndicate Team Rocket in Johto. It is located under the souvenir shop in Mahogany Town. Within the labyrinthine passages is a sinister transmission device that generates a strange radio pulse that encompasses the area surrounding Mahogany Town.
Layout
B1F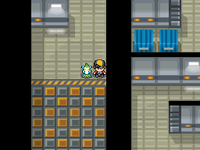 On the first floor of the headquarters, there are a multitude of Persian statues, which serve as security alarms. Once tripped, it will alert two Team Rocket Grunts, who will proceed to battle you. The device behind Scientist Gregg will switch off the security alarm system, thus making it safe to walk in front of the statues. On the staircase leading to B2F, there is a tile floor which serves as another hindering trap. Once a tile is stepped upon, a Pokémon will attack you.
Trainers:
Items
| Item | Sprite | Location | Method of Obtaining |
| --- | --- | --- | --- |
| Hyper Potion | | Team Rocket HQ | Found on the ground. |
| Nugget | | Team Rocket HQ | Found on the ground. |
| Guard Spec. | | Team Rocket HQ | Found on the ground. |
| Revive | | Team Rocket HQ | Through the use of Dowsing Machine. |
B2F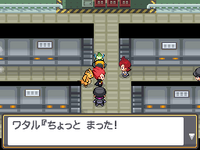 On the second floor of the headquarters, Lance appears, and heals your Pokémon for you. There is also the room leading to the generator, but the door is tightly shut. Once you return to B2F's locked room with the Murkrow, Team Rocket Executive Ariana intervenes with another Grunt, preparing to stop you from preventing their plans. However, Lance assists you in the battle, prompting Team Rocket to flee the headquarters after their defeat. After this, Lance tells you to either catch or defeat the six Electrode powering the generator. After the device is deactivated, Lance rewards you with HM 05, Whirlpool.
Trainers:
Team Rocket


Ariana

Grunt
Arbok
Level 25

Gloom
Level 25

Murkrow
Level 27

Drowzee
Level 18

Grimer
Level 20

Gain: 2960
Items
B3F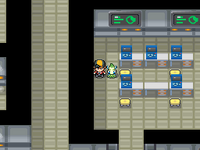 On the third floor of the headquarters, Lance informs the trainer that you require a password to access the boss' room. Once you defeat all the Grunts on this floor, they will reveal to you the password: RATICATETAIL. As you make your way to the boss' room, you find Giovanni sitting at a table beside a Murkrow. However, it turns out to be Rocket Executive Petrel assuming a disguise. After you challenge Petrel and defeat him, he informs you that the password is '"Hail Giovanni". However, he states that the door will not open unless he himself says it. As Petrel takes off, the Murkrow begins to imitate his voice as he said the password.
Trainers:
Team Rocket


Petrel
Zubat
Level 22

Koffing
Level 22

Raticate
Level 24

Gain: 880
Items
Trivia