This article is missing an image. Please help the Azurilland Wiki by adding one.

Shadow Ball is a Ghost-type move introduced in Generation II that has a 10% chance to lower the target's Special Defense by one . When using it, a Pokemon creates a dark purple ball in front of its mouth (not all Pokemon), then the shadowy ball is fired at the opponent.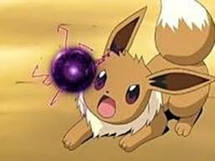 Several Pokemon can learn Shadow Ball, and all Ghost Type Pokemon can learn it. In the Anime , Shadow Ball is best known from being performed by Eevee and its evolved forms.
Description
Battle
| Version(s) | Description |
| --- | --- |
| X/Y | The user hurls a shadowy blob at the target. This may also lower the target's Sp. Def stat |
| OR/AS | The user hurls a shadowy blob at the target. This may also lower the target's Sp. Def stat |
Contest
| Version(s) | Description |
| --- | --- |
| OR/AS | Quite an appealing move. |