Jurassic World: Dominion Dominates Fandom Wikis - The Loop
Play Sound
Pokémon Ranger: Shadows of Almia
Game Information
Publisher
Nintendo
Developer
Creatures, Inc.
Category
Action RPG
Players
1 Player
ESRB
E for Everyone
Release Dates
March 20, 2008
November 10, 2008
November 21, 2008
November 13, 2008
{{{release-date-korea}}}
Other information
Platform
Nintendo DS
Region
Almia
Pokémon Ranger: Shadows of Almia is the second game in the Pokémon Ranger series. The main plot of the game is to gather all sorts of Pokémon in unique way using the Nintendo DS stylus and the touch screen. You can then use the Pokémon to help you bypass terrains (like logs, boulders, ice chunks, ect.), or when trying to capture other Pokémon.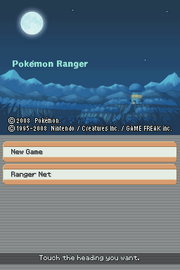 Partner Pokémon
The first game, Pokémon Ranger, allows the player to have either Plusle or Minun as a Partner Pokémon. Now the player can have up to 17 partner Pokémon (one for each type) but may only use one at a time. The first partner Pokémon is a Starly, a Munchlax, or a Pachirisu. (spoiler alert): These 3 partners you can get from the main plot, but for the others you are required to complete certain quests.
Villains
The main antagonist of this series is the Team Dim Sun, who aims to control all the Pokémon in the Almia region.
Team Dim Sun was hired by Blake Hall, who seems to be the president of the Altru Tower. The commanders are Lavana, Ice, Heath, and of course, the boss is Mr. Kincaid.
See also