We're Getting Mutants in the MCU - The Loop
Play Sound
Pokémon FireRed and LeafGreen
Game Information
Publisher
Nintendo/The Pokémon Company
Developer
Game Freak
Category
RPG
Players
1-4 players
ESRB
E for Everyone
Release Dates
January 29, 2004
September 7, 2004
October 1, 2004
{{{release-date-korea}}}
Other information
Platform
Game Boy Advance
Region
Kanto
Pokémon FireRed Version (ポケットモンスターファイアレッド Pocket Monsters Firered) and Pokémon LeafGreen Version (ポケットモンスターリーフグリーン Pocket Monsters Leafgreen) are remakes of the Red and Blue games. These games, like the original, take place in the Kanto region and also includes the Sevii Islands which were not in the original. Though these games are remakes of the Generation I games, they are considered to be Generation III games, now with better graphics and many new features.
Locations
Changes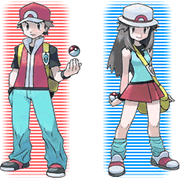 The following are the new changes and upgrades made to Pokémon FireRed and LeafGreen from the original games, Red and Green.
Version Exclusives
Version Exclusive Pokémon
FireRed
Psyduck, Golduck, Electabuzz, Elekid, Growlithe, Arcanine, Shellder, Cloyster, Scyther, Scizor, Wooper, Quagsire, Murkrow, Oddish, Gloom, Vileplume, Bellossom, Qwilfish, Delibird, Ekans, Arbok, Skarmory, Deoxys (Attack Form)
LeafGreen
Sandshrew, Sandslash, Vulpix, Ninetales, Bellsprout, Weepinbell, Victreebel, Slowpoke, Slowbro, Staryu, Starmie, Magmar, Magby, Pinsir, Azurill, Marill, Azumarill, Misdreavus, Sneasel, Remoraid, Octillery, Mantine, Deoxys (Defense Form)
Gym Leaders
Elite Four and Champion
Trivia
The famous truck near the SS Anne makes another appearance in the FireRed and LeafGreen games. This time around Strength can actually be used on it and a player will receive a Lava Cookie.
In the Pewter Science Museum, the model space shuttle has been renamed from Space Shuttle Columbia to just Space Shuttle. The Columbia was destroyed in a tragic explosion before the game's release. In newer versions of the game, it has been renamed to "Space Shuttle Discovery" but in the original FireRed and LeafGreen versions, it is left as "Space Shuttle".
It is by far the only Pokémon game that they showed commecials for 1 year after it was made.
The battle between Nidorino and Gengar in the opening movie is similar to the fight shown on Ash's TV in the first episode of Pokémon.
Although it wasn't released in the United States or United Kingdom, Green was still remade, making U.S. Pokémon players confused, since Pokémon Red and Blue were the versions released in the U.S.