Jurassic World: Dominion Dominates Fandom Wikis - The Loop
Play Sound
Pokémon
Destiny Deoxys


裂空の訪問者 デオキシス

Poster Art
Information
Director:
Kunihiko Yuyama
Writer:
Hideki Sonoda
Producer:
satoshi tajiri
Runtime
98 min
Premiere
Japan:
July 17, 2004
United States:
January 22, 2005
Home Video
Japan:
December 21, 2004
United States:
February 15, 2005
Rating
United States:
G
Japan:
G
Great Britain:
PG
Pokémon: Destiny Deoxys (Japanese: 裂空の訪問者 デオキシス Sky-Splitting Visitor: Deoxys; Official: Deoxys the Visitor) is the second Advanced Generation series movie, and seventh of all Pokémon movies.
It was first in Japanese theaters on July 17, 2004. It then aired on the Kids' WB! programming block for North American audiences on January 22, 2005 and released on home video on February 15, 2005 distributed by Miramax Films.
Plot
A mysterious meteorite hurtles towards Earth. While entering the atmosphere, it almost wounds Rayquaza, the Sky Guardian and the strongest dragon in the world. The meteorite crashes into a polar zone, revealing two egg-shaped objects. The purple egg regenerates into a Deoxys and picks up the green egg. Rayquaza decends from the ozone layer and attacks the invader. A battle ensues, destroying a nearby research site and traumatizing a young boy, scared by a stampede of Spheal, Sealeo, and Walrein.
The purple Deoxys traps Rayquaza and is about to beat it, but it is distracted by electricity from broken computers, giving Rayquaza a chance to obliterate the purple Deoxys with its Hyper Beam. Deoxys goes back to egg form and falls into the sea, while some researchers take the green egg with them. Beneath the sea, the injured Deoxys regenerates and waits. The green egg appears somewhere in Hoenn.
Four years later, Ash, Brock, May, Ashes and Max travel to the LaRousse battle tower. They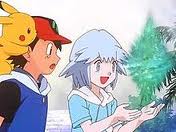 meet Tory who is afraid of Pokémon because of the trauma he endured during Rayquaza and Deoxys' battle. Tory is found to be a loner. Deoxys, which has fully healed, leaves to find the other green egg which Tory's parents are testing in a lab. In the Battle Tower, Ash mistakes Tory for a Pokémon trainer and they battle against Raf

e and Sid, with Tory using Ash's Torkoal. However, Tory does not know how to handle Ash's Torkoal and they lose. Tory runs away, stopping to save a Minun which was trapped in a trash can. Later, Ash meets Tory's parents and they have fun until they see a mysterious purple aurora, signaling the return of Deoxys.
When Deoxys begins to remove the city's inhabitants to search for the green egg, it is up to Ash, Pikachu, and Tory to help it find the egg. This is complicated by the return of Rayquaza, and the security robots malfunctioning. The city is filled with blocks of robots almost destroying Rayquaza, but with the help of the green and purple Deoxys, they save him.