Kalos (Japanese: カロス地方 Kalos-chihō) is a region in the fictional universe of Pokémon, and is the setting of the Nintendo 3DS games Pokémon X and Y and is the sixth main series region.
Kalos is based on the country of France. It is star-shaped in design and at the very center of the region lies Lumiose City. Among its legendary Pokémon are Xerneas, representing life, and Yveltal, representing death.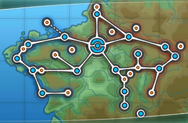 Cities and Towns
Vaniville Town is the starting town in Pokémon X and Y, and is the hometown of Calem, Serena, Shauna, Tierno, and Trevor.
Santalune City is a City near the Santalune Forest. It has a gym that specializes in Bug Pokémon. Viola is the gym leader.
Lumiose City is the biggest city in Kalos, and is based on the real-world city of Paris. In its center, Lumiose has a tall tower, resembling the Eiffel Tower of Paris. Alexa, a reporter and the older sister of Viola, lives here.
Shalour City is where the Gym Leader Korrina resides. It is also where you learn about Mega Evolutions.
Landmarks
The player character and his/her rivals set off in Santalune Forest (located near Santalune City) near the start of Pokémon X and Y.
The Pokémon League
Gym Leaders
Name
Settlement
Type
Signature
Pokémon
Badge

Viola
Santalune City
Bug

Bug Badge

Grant
Cyllage City
Rock
/

Cliff Badge

Korrina
Shalour City
Fighting

Rumble Badge



Ramos

Coumarine City
Grass

Plant Badge

Clemont
Lumiose City
Electric

Voltage Badge



Valerie

Laverre City
Fairy

Fairy Badge



Olympia

Anistar City
Psychic

Psychic Badge



Wulfric

Snowbelle City
Ice

Iceberg Badge
Elite Four and the Champion
Name
Type
Signature
Pokémon



Malva

Fire



Wikstrom

Steel



Drasna

Dragon



Siebold

Water

Champion Diantha
Mix