Descriptions
Pokétch No: 06
Basic Info: "The Friendship Checker app identifies the Pokémon that like you."
Computer Info: "The Friendship Checker indicates how friendly your Pokémon are to you. Touch the screen. The Pokémon that like you will come closer faster. Tap and hold a Pokémon. 0 hearts: hates you 1 heart: likes you 2 hearts: likes you a lot 2 big hearts: loves you"
Obtained
Obtainable from the girl in the Pokémon Center in Eterna City.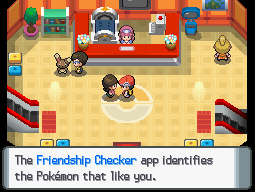 Uses
This allows you to check how much your Pokémon likes you.
The more hearts you get (or bigger hearts), the more the Pokémon likes you when you press on them.
2 giant hearts would mean that the Pokémon have a maximum friendship with you.
The Pokémon will play its cry when touched.
Pokémon will move more faster if they like you when you swipe them on the screen.
All the Pokémon will jump when you double-tap the screen.