"Yo Trainer! You had me counting the days on my fingers waiting for you to come. I heard from Volkner what you did in Sunyshore. You managed to light a fire in that guy's heart again. How could you not expect me to look forward to seeing you in battle? You're facing a Fire-type Pokémon user with me. Let Flint see how hot your spirit burns!"
— Flint in Pokémon Diamond, Pearl, and Platinum.
Flint is the third member of the Sinnoh Elite Four. He specializes in using Fire-type Pokémon. He is a childhood friend of Volkner.
In the games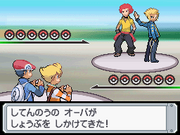 In Diamond, Pearl and Platinum, Flint is the third member of the Elite Four challenged in Sinnoh. He specializes in Fire Pokémon. Flint is first encountered in Sunyshore City where he asks the player to rouse his old friend Volkner out of his depression with an exciting battle.
Sprites
| DP battle sprite | Pt battle sprite | Vs. sprite |
| --- | --- | --- |
| | | |
In the anime
Flint first appeared in Flint Sparks the Fire, where he was visiting his friend Volkner, who had become surly due to the lack of worthy opponents. Flint also met Ash Ketchum and his friends and battled Ash in the hopes of reigniting Volker's fighting spirit. Although his Infernape easily defeated Ash's Buizel and Infernape, Pikachu held its own against Infernape long enough to impress both Flint and Volkner. After the battle, Volkner agreed to battle Ash.
Flint also battled against the Olivine City Gym Leader Jasmine, whom he defeated easily.
Flint later appeared on television where his Infernape battled Cynthia's Garchomp. Flint was defeated by Cynthia but his Infernape was mentioned to have beaten two of Cynthia's Pokemon and held its own against Garchomp.
In the manga
Pokemon Adventures
Main article: Flint (Adventures)
Pokémon
In the games
Diamond and Pearl
Drifblim

  
Lv. 58

♂

Ability: Aftermath
Item: None
Baton Pass
Double Team
Ominous Wind
Will-O-Wisp
Platinum
Rematch
In a Tag Battle with Volkner
In the anime
Chimchar → Monferno → Infernape 15px
Flint's Infernape was the only one of Flint's Pokémon shown on screen and was used during Flint's battles with Ash, Jasmine and Cynthia, winning two of these battles but loosing the third.