Jurassic World: Dominion Dominates Fandom Wikis - The Loop
Play Sound
This article is missing an image. Please help the Azurilland Wiki by adding one.

Flare Blitz (フレアドライブ Flare Drive) is a Fire-type move introduced in Generation IV.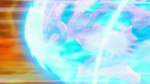 Effect
In Battle
The user cloaks itself in fire and charges at the foe. May cause a burn. The user sustains serious damage, too.
Super Contests
Earn +3 if the Pokémon that just went hit max Voltage.
Learnset
Generation IV
By Leveling Up
By Breeding
By Breeding
Pokémon
Type
Father
Charmander
Fire
Charizard
Vulpix
Fire
Growlithe
Ponyta, Rapidash
Combusken, Blaziken
Monferno, Infernape
Growlithe
Fire
Growlithe
Ponyta, Rapidash
Combusken, Blaziken
Monferno, Infernape
Cyndaquil
Fire
Growlithe
Ponyta, Rapidash
Combusken, Blaziken
Monferno, Infernape
Magby
Fire
Monferno, Infernape
* Bold indicates a Pokémon which receives STAB from this move
* indicates a Pokémon that can only learn the move through chain breeding
By Event
By Leveling Up
Pokémon
Type
Event
Entei
Fire
13th Movie Event
* Bold indicates a Pokémon which receives STAB from this move
Generation V
By Leveling Up
By Breeding
By Breeding
Pokémon
Type
Father
Charmander
Fire
Charizard
Vulpix
Fire
Growlithe
Ponyta, Rapidash
Combusken, Blaziken
Monferno, Infernape
Tepig, Pignite, Emboar
Darumaka, Darmanitan
Growlithe
Fire
Growlithe
Ponyta, Rapidash
Combusken, Blaziken
Monferno, Infernape
Tepig, Pignite, Emboar
Darumaka, Darmanitan
Cyndaquil
Fire
Growlithe
Ponyta, Rapidash
Combusken, Blaziken
Monferno, Infernape
Tepig, Pignite, Emboar
Darumaka, Darmanitan
Magby
Fire
Monferno, Infernape
* Bold indicates a Pokémon which receives STAB from this move
* indicates a Pokémon that can only learn the move through chain breeding