Ecruteak City Gym is the gym of Ecruteak City. Morty is the gym leader which has Ghost-type Pokémon. If the player wins against Morty he/she gets the Fog Badge and TM30 Shadow Ball. The player can also use Surf out of battle and Pokémon up to level 50 obey the player.
General Information
Gym Appearance
In Generation II the Ecruteak Gym which has invisible floors can cause problems because a simple touch to the invisible pit makes the player become sent back to the start of the gym and start the process over again. Trainers appear as if they are floating over the floor and sometimes are scared away by Gastly.
While in Generation IV, the Ecruteak Gym has slightly changed. The change is about there are some flames that light up dark patches. It's harder for the player to see where he/she is going because if he/she defeats each Medium, their flames go out when they lose. And there are no Sages in the Gym.
In Pokémon Stadium 2 The Gym was like an eerie temple or ritual site with a glowing floor.
Gold, Silver and Crystal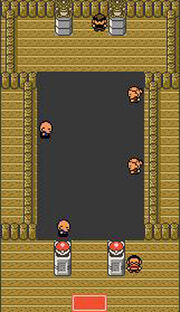 Gym Leader Morty
HeartGold And SoulSilver
Gym Leader Morty
Pokémon Stadium 2
Round 1
Medium Holly:
Sage Ty:
[[HAUNTAGE]]

  
Lv. 50

♀

Ability: None
Item: Bitter Berry
Curse
Mean Look
Spite
Night Shade
Gym Leader Morty:
Girafarig

  
Lv. 50

♂

Ability: None
Item: PRZCureBerry
Psybeam
Thunder
Swift
Nightmare

Noctowl

  
Lv. 50

♀

Ability: None
Item: PSNCureBerry
Fly
Confusion
Take Down
Foresight
Round 2
Medium Holly:
Sage Ty:
Gym Leader Morty:
Exeggutor

  
Lv. 50

♂

Ability: None
Item: Quick Claw
Psychic
Stun Spore
Double-Edge
Giga Drain
Videos
thumb|300px|left|Ecruteak Gym in Pokémon Stadium 2