Jurassic World: Dominion Dominates Fandom Wikis - The Loop
Play Sound

Ducklett (Japanese: コアルヒー Koaruhii) is a Generation V Water/Flying-type Pokémon. It evolves into Swanna at level 35.
Appearance
Ducklett looks like a cygnet or baby bird Pokémon. Its upper body is aqua/light blue in color and the lower half is sky blue. On its head is a heart-shaped, feather-like protrusion. Its bill and feet are yellow.
In anime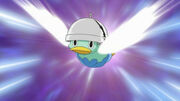 In BW020, 3 Ducklett appeared stealing various items, including Cilan's pan, Ash's hat and a Sandile's sunglasses.
Game Info
Game Locations
Pokédex Entries
Generations I - IV
Ducklett did not appear during the Generation I - IV games.
Black
These bird Pokémon are excellent divers. They swim around in the water eating their favorite food--peat moss.
White
When attacked, it uses its feathers to splash water, escaping under cover of the spray.
Black 2
{{{black2}}}
White 2
{{{white2}}}
X
{{{x}}}
Y
{{{y}}}
Omega Ruby
{{{omegaruby}}}
Alpha Sapphire
{{{alphasapphire}}}
Learnset
Sprites
Trivia
Due to its evolution's resemblance to a swan, Ducklett's appearance is probably based on the Tale of the Ugly Duckling where an unattractive duckling grows into a beautiful swan.
In one episode Ducklett is seeing wearing something on its head
References