Driftveil Drawbridge




ホドモエの跳ね橋

Hodomoe no Hanebashi

Information about Driftveil Drawbridge
Region:
Unova
Connecting locations:
← Driftveil City
→ Route 5
Weather:
Normal
Kind:
Bridge
Needed HM:
None
The Driftveil Drawbridge is one of the two main bridges which links central Unova to western Unova, connecting Nimbasa City and Driftveil City. The bridge raises and lowers depending on the ship schedules, and is managed by the Driftveil City Gym Leader, Clay.
You'll see shadows on the ground for the first time, these are cast by the flying Pokémon soaring above the bridge. If you step on them, you'll either encounter a Ducklett or find a Wing.
Pokémon
Black and White
Pokémon
Level
Rate
How
Version
Ducklett
22-25
100%
Shadow Spot
Black 2 and White 2
Pokémon
Level
Rate
How
Version
Ducklett
23-26
100%
Shadow Spot
Items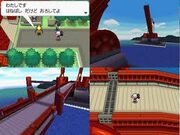 Trivia