Jurassic World: Dominion Dominates Fandom Wikis - The Loop
Play Sound
This article is missing an image. Please help the Azurilland Wiki by adding one.

Double Hit (ダブルアタック Double Attack) is a Normal-type move introduced in Generation IV.
Effect
In Battle
The user slams the foe with a tail, etc. The target is hit twice in a row.
Super Contests
Allows performance of the same move twice in a row.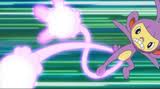 Learnset
By Leveling Up
By Breeding
By Breeding
Pokémon
Type
Father
Sneasel
Dark/Ice
Aipom, Ambipom
Girafarig
Zangoose
Piplup, Prinplup, Empoleon
Buneary, Lopunny
Zangoose
Normal
Aipom, Ambipom
Girafarig
Sneasel, Weavile
Piplup, Prinplup, Empoleon
Buneary, Lopunny
Piplup
Water
Aipom, Ambipom
Girafarig
Sneasel, Weavile
Zangoose
Buneary, Lopunny
Buneary
Normal
Aipom, Ambipom
Girafarig
Sneasel, Weavile
Zangoose
Piplup, Prinplup, Empoleon
* Bold indicates a Pokémon which receives STAB from this move
* indicates a Pokémon that can only learn the move through chain breeding
By Leveling Up
By Breeding
By Breeding
Pokémon
Type
Father
Sneasel
Dark/Ice
Aipom, Ambipom
Girafarig
Zangoose
Piplup, Prinplup, Empoleon
Buneary, Lopunny
Zangoose
Normal
Aipom, Ambipom
Girafarig
Sneasel, Weavile
Piplup,Prinplup, Empoleon
Buneary, Lopunny
Piplup
Water
Aipom, Ambipom
Girafarig
Sneasel, Weavile
Zangoose
Buneary, Lopunny
Buneary
Normal
Aipom, Ambipom
Girafarig
Sneasel, Weavile
Zangoose
Piplup, Prinplup, Empoleon
Deino
Dark/Dragon
Jiheddo
* Bold indicates a Pokémon which receives STAB from this move
* indicates a Pokémon that can only learn the move through chain breeding