Jurassic World: Dominion Dominates Fandom Wikis - The Loop
Play Sound
This article is missing an image. Please help the Azurilland Wiki by adding one.

Cross Poison is a damaging Poison-type move introduced in Generation IV.
Effect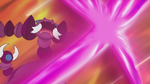 In Battle
A slashing attack that may also leave the target poisoned. It has a high critical-hit ratio.
Super Contests
A basic performance using a move known by the Pokémon.
Learnset
By Leveling Up
By Breeding
By Leveling Up
By Breeding
By Breeding
Pokémon
Type
Father
Paras
Bug/Grass
Parasect, Spinarak, Ariados, Skorupi, Drapion
Gligar
Ground/Flying
Parasect, Spinarak, Ariados, Skorupi, Drapion
Anorith
Rock/Bug
Skorupi, Drapion
Armaldo
Rock/Bug
Skorupi, Drapion
Gliscor
Ground/Flying
Parasect, Spinarak, Ariados, Skorupi, Drapion
Joltik
Bug/Electric
Parasect, Spinarak, Ariados, Skorupi, Drapion
Galvantula
Bug/Electric
Parasect, Spinarak, Ariados, Skorupi, Drapion
* Bold indicates a Pokémon which receives STAB from this move
* indicates a Pokémon that can only learn the move through chain breeding