Castelia City

ヒウンシティ

Hiun City

A City of Grandeur
Location info
Region:
Unova
Connecting routes:
↑ Route 4
→ Skyarrow Bridge
← Ship to Virbank City
↓ Liberty Garden/Unity Tower
↘

Castelia Sewers

Location of Castelia City in Unova.
Settlements
Gym info
Name:
Castelia Gym
Leader:
Burgh
Types:
Badge:
Insect Badge

Pokémon Gyms
Castelia City is a huge city in southern Unova with countless skyscrapers piercing the clouds, several piers which contain many boats, and also has the region's third Gym.
As you might expect from such an expansive city, there are many areas to explore, with notable buildings including the Battle Company, GAME FREAK, and the Casteliacone stall. When you travel through Castelia City, the camera will zoom in and out, and when you leave, the camera will show you Castelia City from a distance.
Streets
Unnamed Oceanside Street - The street overlooking the ocean houses the Pokémon Center in the east. Further along you'll see the Battle Company building, where the employees are waiting to challenge you. Also on this road is the Passerby Analytics HQ; if you pop in they'll give you more surveys for your C-Gear.
Castelia Street - The Unova GAME FREAK Head Quarters are located here, where you can meet the game director and a few other developers. One of the game designers will challenge you to a match after you've defeated the Elite Four. In the building opposite the GAME FREAK HQ, a lady will give your Pokémon a massage, making it more friendly towards you.
Central Plaza - Has a grand fountain. When you find the three dancers around the city, they'll be here.
Mode Street - The famous Casteliacone is sold here, but as it's extremely popular it's sold out every day apart from Tuesday; You have to go early Tuesday mornings if you want one, and only once a day. In Studio Castelia, an art gallery, a harlequin will give you a berry if you show him a Pokémon of the correct type.
Unnamed Gym Street - The Castelia City Gym is here, with Team Plasma's secret HQ in the building opposite.
Piers and Dock
The boats docked here can take you to areas otherwise inaccessible.
Map of Castelia City
Demographics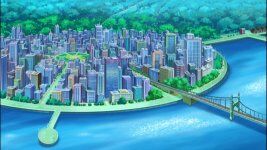 Castelia City has a population of 127 which makes it the third most populous city in the Pokémon World.
Gym
Main article: Castelia City Gym
Black and White
Castelia Gym Leader

Insect Badge
TM76 (Struggle Bug)

Burgh
Whirlipede
Level 21

Dwebble
Level 21


Leavanny
Level 23

Black and White Versions 2
Castelia Gym Leader

Insect Badge
TM76 (Struggle Bug)

Burgh
Swadloon
Level 22

Dwebble
Level 22


Leavanny
Level 24

Trainers
Team Plasma

Rival


Bianca
Herdier
Level 18

Munna
Level 18

Starter: Snivy
Starter: Tepig
Starter: Oshawott
Dewott
Level 20

Servine
Level 20

Pignite
Level 20

Pansear
Level 18

Panpour
Level 18

Pansage
Level 18

Battle Company
Items
Trivia
Castelia City is based on Manhattan.
Castelia City gets its name from the Latin term castellanus, which means of a castle or of a fort. That term is used in conjunction with several varieties of clouds, such as the Cumulus castellanus, the Cirrus castellanus, among others.