Bulbasaur
Bulbasaur (pronunciation: BUHLB-uh-sawr) is a dual-type Grass/Poison-type Starter Pokémon of the Kanto region. It evolves into Ivysaur at level 16, then into Venusaur at level 32.
Appearance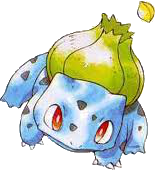 Known as the Seed Pokémon, Bulbasaur resembles a small, squatting dinosaur that walks on four legs and has a large plant bulb on its back that is able to shoot seeds out of. It also has large red eyes and has very sharp teeth. Its skin is a light turquoise color with dark green spots. It has three nails on all its four legs. Its most notable feature, however, is the aforementioned bulb on its back, which as the Pokédex states, was planted on it at birth.
Though they usually walk on four legs, a Bulbasaur can rise up on its hind legs. When it evolves into Ivysaur, the bulb becomes a larger flower bud, making it nearly impossible for one to rise on its hind legs.
Habitat
As Bulbasaur is a starter Pokémon, it is hard to locate, however, it could be found near streams.
Diet
Bulbasaur is an omnivore. However, in times of scarcity, it does not need to eat much food, since the bulb on its back can store energy from the sun.
Special abilities
Bulbasaurs have "bulbs" on their backs that grow steadily larger as the Bulbasaur matures. This bulb contains a seed which uses photosynthesis to supply Bulbasaur with energy. Its bulb is also used to store the energy which the seed absorbs, which can be used when it is necessary. It is assumed that when a Bulbasaur collects enough energy in its bulb, it will evolve into an Ivysaur.
Appearances
In the anime
Bulbasaur's debut in the anime was in the first episode, Pokémon - I Choose You, where it can be seen on Ash Ketchum's television in his room and his dream about which starter Pokémon he will select the next day.
Ash's Bulbasaur
May's Bulbasaur
In the manga
In the Pokémon Adventures manga, Red chose Bulbasaur, which he nicknamed Saur, as his Starter Pokémon.
Game info
Bulbasaur is a starter in Pokémon Red and Blue, Pocket Monsters Green, and, more recently, Pokémon FireRed and LeafGreen. In Pokémon Yellow, which is based upon the anime series, Bulbasaur is received as a gift in Cerulean City from a girl in the house next to the Pokémon Center. In the following games, Bulbasaur can be received via Trading.
Locations
Main Game Locations
Spin-off game locations
Pokédex entries
Red
A strange seed was planted on its back at birth. The plant sprouts and grows with this Pokémon. 
Blue 
LeafGreen 
X
Yellow
It can go for days without eating a single morsel. In the bulb on its back, it stores energy.
Stadium
The bulb-like pouch on its back grows larger as it ages. The pouch is filled with numerous seeds.
Gold
The seed on its back is filled with nutrients. The seed grows steadily larger as its body grows. 
Stadium 2 
HeartGold
Silver
It carries a seed on its back right from birth. As it grows older, the seed also grows larger. 
SoulSilver
Crystal
While it is young, it uses the nutrients that are stored in the seeds on its back in order to grow.
Ruby
Bulbasaur can be seen napping in bright sunlight. There is a seed on its back. By soaking up the sun's rays, the seed grows progressively larger. 
Sapphire 
Emerald 
Omega Ruby 
Alpha Sapphire
FireRed
There is a plant seed on its back right from the day this Pokémon is born. The seed slowly grows larger.
Diamond
For some time after its birth, it grows by gaining nourishment from the seed on its back. 
Pearl 
Platinum 
Black 
White 
Black 2 
White 2 
Y
PokéPark Data
Learnset
Generation VII
By leveling up
By breeding
Breeding
Father

Move

Power
Accuracy

PP

Type

Category
 • 
Amnesia
-
-%
20
Psychic
Status
 • 
Charm
-
100%
20
Fairy
Status
 •  •  •  • 
Curse
-
-%
10
Ghost
Status
 • 
Endure
-
-%
10
Normal
Status
 •  •  •  •  •  •  •  •  •  •  •  •  • 
Giga Drain
75
100%
10
Grass
Special
 •  • 
Grass Whistle
-
55%
15
Grass
Status
 •  •  • 
Grassy Terrain
-
-%
10
Grass
Status
 •  •  •  •  •  •  •  •  •  •  • 
Ingrain
-
-%
20
Grass
Status
 •  •  •  •  •  •  •  • 
Leaf Storm
130
90%
5
Grass
Special
 •  •  •  •  • 
Magical Leaf
60
-%
20
Grass
Special
 •  • 
Nature Power
-
-%
20
Normal
Status
 •  •  •  •  •  •  • 
Petal Dance
120
100%
10
Grass
Special
 •  •  • 
Power Whip
120
85%
10
Grass
Physical
 • 
Skull Bash
130
100%
10
Normal
Physical
Sludge*
-
-%
20
Poison
Special
Bold indicates this Pokémon receives STAB from this move.
Italic indicates an evolved or alternate form of this Pokémon receives STAB from this move.
By tutoring
Sprites
Gallery
Origins
Bulbasaur's appearance is based upon a small dinosaur with a plant growing off its back.
Name Origin
Japanese: フシギダネ (Fushigidane in Romaji) from the Japanese words Fushigi (不思議), which means strange and Tane (種), which means seed.
French: Bulbizarre from the French words bulbe(bulb) and bizarre (bizarre).
German: Bisasam from the German words Bisamratte (muskrat) and Samen (seed).
English: Bulbasaur is a portmanteau of the words "bulb", a plant term referring to the large bulb on its back, and "dinosaur".
Trivia
Bulbasaur uses the bulb on its back to store extra energy. This makes it possible for Bulbasaur to survive for days without eating.
Bulbasaur and its evolutions are the only Poison-type starter Pokémon.
Bulbasaur and its evolutions have the same species as Sunkern: they are both classified as the Seed Pokémon.
Although Bulbasaur is a quadrupedal Pokémon, it has the ability to stand on its two hind legs until it evolves into Ivysaur.
Bulbasaur is the first Grass-type starter.
References
Bulbasaur's evolutionary line