| | This article is about the game character Brock (Game). For other uses, see Brock (anime). | |
| --- | --- | --- |
"I'm Brock! I'm the Pewter's Gym Leader! I believe in rock hard defense and determination! That's why my Pokémon are all Rock-type! Do you still want to challenge me? Fine then! Show me your best!"
— Brock in Pokémon Yellow
Brock (タケシ Takeshi) serves as the Gym Leader at the Pewter City Gym, and holds the Boulder Badge for the trainers that defeat him in a Pokémon battle. In the Pokémon games, Brock specializes in and only uses Rock-type Pokémon.
In the anime series, Brock was the longest lasting traveling companion to travel with the Trainer Ash Ketchum. Brock, as well as Dawn, separated from Ash when their journey in Sinnoh ended. In the Pokémon Diamond and Pearl Special Episode 2, he has photos of Ash, Misty, May, Max and Dawn reminding him of his journeys with them.
Appearance
Brock is a teenager with brown hair and black eyes.
In the games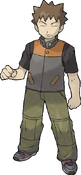 Brock, in the main series Pokémon games, has always been featured as the
Pewter City
Gym Leader. He first appeared in the
original
games, and later on, an older version of Brock was seen in
Pokémon Gold and Silver
.
Brock was again the Pewter Gym Leader in the Red and Blue remakes, Pokémon FireRed and LeafGreen, with an updated appearance.
An updated version of the Gen II Brock is seen in the remakes; Heartgold and Soulsilver.
Sprites
Quotes
"Pewter City Pokémon Gym
Leader: Brock
The Rock-Solid Pokémon Trainer!'"
— Pewter Gym - sign
"My rock-hard willpower is evident in even my Pokémon.
My Pokémon are all rock hard and have true-grit determination.
That's right - my Pokémon are all the Rock type!'"
— Pewter Gym - Brock
"There aren't many serious Pokémon trainers here.
They're all like Bug Catchers, you know, just hobbyists.
But Pewter Gym's Brock isn't like that, not one bit.'"
— Pewter City - young man
"Brock is cool. He's not just tough.
People like and respect him.
I want to become a Gym Leader like him.'"
— Route 4 - boy
"Hi. I'm excavating for fossils here under Mt. Moon.
Sometimes, Brock of Pewter Gym lends me a hand.'"
— Mt. Moon - man
"Brock rarely laughs, but is said to be unable to stop if he starts."
— Pewter Museum - Pokémon Journal
"In this big world of ours, there must be many tough trainers.
Let's both keep training and making ourselves stronger!'"
— Message from Brock
In the anime
Main article: Brock (anime)
In the manga
Pokémon Adventures
Main article: Brock (Adventures)
Pokémon
In the Games
Red and Blue
Yellow
Gold, Silver, and Crystal
FireRed and LeafGreen
HeartGold and SoulSilver
Onix

  
Lv. 54

♂

Ability: Sturdy
Item: Sitrus Berry
Screech
Iron Tail
Rock Slide
Sandstorm
Rematch
Onix

  
Lv. 61

♂

Ability: Sturdy
Item: Sitrus Berry
Stealth Rock
Rock Polish
Rock Slide
Sandstorm
Black 2 and White 2
Rock-type Tournament
Rhyperior

  
Lv. 50

♂

Ability: Solid Rock
Item: Expert Belt
Earthquake
Stone Edge
Megahorn
Avalanche
Kanto Gym Leader Tournament
Relicanth

  
Lv. 50

♂

Ability: Swift Swim
Item: Rock Gem
Rock Slide
Waterfall
Rock Polish
Yawn
Pokémon Stadium
Gym Leader Castle
Gym Leader Castle (Second Round)
Pokémon Stadium 2
Gym Leader Castle
Kabutops

  
Lv. 50

♂

Ability: None
Item: PRZCureBerry
AncientPower
Slash
Sleep Talk
Surf

Forretress

  
Lv. 50

♀

Ability: None
Item: Mint Berry
Defense Curl
Take Down
Giga Drain
Defense Curl
Heracross

  
Lv. 50

♂

Ability: None
Item: Focus Band
Counter
Reversal
Megahorn
Earthquake
In the manga
Trivia
Brock's name is a play on the word ROCK, because he is a rock type Pokémon trainer.
Brock rarely opens his eyes , but when he does, they appear to be blue.