Jurassic World: Dominion Dominates Fandom Wikis - The Loop
Play Sound
Agatha is a member of the Elite Four in Generation I and its remakes, who uses Ghost-type Pokémon. She was Professor Oak's rival when they were young. She also makes an appearance in the anime, where she battles Ash while she is the temporary Gym Leader until someone could be found.
In the anime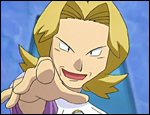 Agatha appeared in the anime series episode 406: Scheme Team. She was seen in Viridian City where Scott invites Ash to Battle Frontier. She battled Ash and won using her Gengar against Ash's Pikachu.
Pokémon
In the games
Red and Blue
Yellow
FireRed and LeafGreen
Gengar

  
Lv. 58

♀

Ability: Levitate
Item: Sitrus Berry
[[Shadow Ball]]
[[Hypnosis]]
[[Sludge Bomb]]
[[Nightmare]]
Rematch
Gengar

  
Lv. 70

♂

Ability: Levitate
Item: Chesto Berry
[[Shadow Ball]]
[[Psychic]]
[[Thunderbolt]]
[[Sludge Bomb]]
Pokémon Stadium
Gym Leader Castle
Gym Leader Castle Round 2
In the anime
Gengar

Gengar is Agatha's main Pokémon, and was able to hold its own against Ash Ketchum's Pikachu. However, Pikachu was able to defeat its Double Team attack, moving in for the win with Thundershock. But Agatha instructed Gengar to use Hypnosis and Dream Eater in succession, enabling it to defeat Pikachu. Its known moves are Hypnosis, Dream Eater, Double Team and Shadow Ball.
Golbat

Golbat is used by Agatha to rescue Ash's Pikachu from Team Rocket's clutches by using Air Cutter and Supersonic, subsequently sending them blasting off. Its known moves are Air Cutter and Supersonic.
In the manga
Sprites
| RB Battle Sprite | Y Battle Sprite | FRLG Battle Sprite |
| --- | --- | --- |
| | | |
Trivia
Apparently, in the games and manga, she mentions Professor Oak, this could mean that she used to have some kind of relationship with Professor Oak.
In her Generation I sprite and artwork Agatha had long gray hair.
All of her Pokémon in Pokémon Red/Blue/Yellow are Poison types.
In her first battle in FireRed and LeafGreen, all her Pokémon are female. In the second and subsequent battles, they are all male.
She is considered by many to be the creepiest Elite Four member.
Videos
Main article:

Agatha/Videos